About Us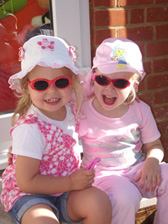 There is nothing more important than knowing your child is safe and happy when not in your care, so choosing the right childcare is one of the most important decisions any parent can make and one that you will agonise over – choosing the right setting for your precious little one!
I know only too well the worries and concerns you will have ensuring your child receive's the individual attention they require and be happy and content in a warm, comfortable and secure setting – which is why Littluns offers all of these, together with a fun and stimulating learning environment, centred around the Early Years Foundation Stage Framework, for little people aged 6 months to 5 years.
Research shows that babies and children thrive from learning through play in small groups and in familiar surroundings, which is why Littluns offers care in groups of similarly aged children and are looked after by qualified carers who have chosen this career-path because they have a natural nurturing ability towards small children, want to work in this environment and are passionate about what they do…. they also have endless energy (most days!!) to ensure your little ones have the best fun whilst in our care. Our recruitment process is very robust and unlike some nurseries our turn over of staff is very small which offers a child continuity and familiarity.
Our beautiful and purpose built rooms and gardens have been carefully designed within the grounds of an existing family home and with a child's needs firmly in mind. Littlun's provides your child with a warm and friendly environment and offer them as much love and support as you would at home, whilst encouraging your child to develop at their own pace, helping them to grow in confidence, independence and social skills.
As an ex full time working mother, I struggled to find the flexible childcare which allowed me to pursue my own busy lifestyle and with this uppermost in mind, Littluns opens daily Monday to Thursday all year round, with the exception of Bank Holidays and for a period over Christmas and New Year. Your child can be included for breakfast from 7.30am and we care for children until 6pm.
I understand how busy working parents are first thing in the morning, which is why, at Littluns, we try to ease that stressful time by providing EVERYTHING your child will need during the day, relieving you of having to prepare bottles, feeds, snacks and packing a bag…..
All nappies, formula and cows milk is included in the daily charge as are hot meals and snacks, which are all freshly prepared on the premises. For additional peace of mind, once you are happy that you have chosen the right childcare provision, we offer free 'settling in' periods which allows your child to become familiar with his or her new surroundings and allows us valuable time to understand each individual child's routine, prior to their official start.
Our success and growth since opening in 2007 has been based purely upon personal recommendation and offering the highest quality of care – from the amazing team to the resources to the parents and indeed our gorgeous children, Littluns is like no other Nursery! As the proprietor, I operate our setting as if my own children were being cared for here, I am incredibly passionate about what I do and myself and the wonderful practitioners working here will continue to strive to offer an exceptional place for little people……